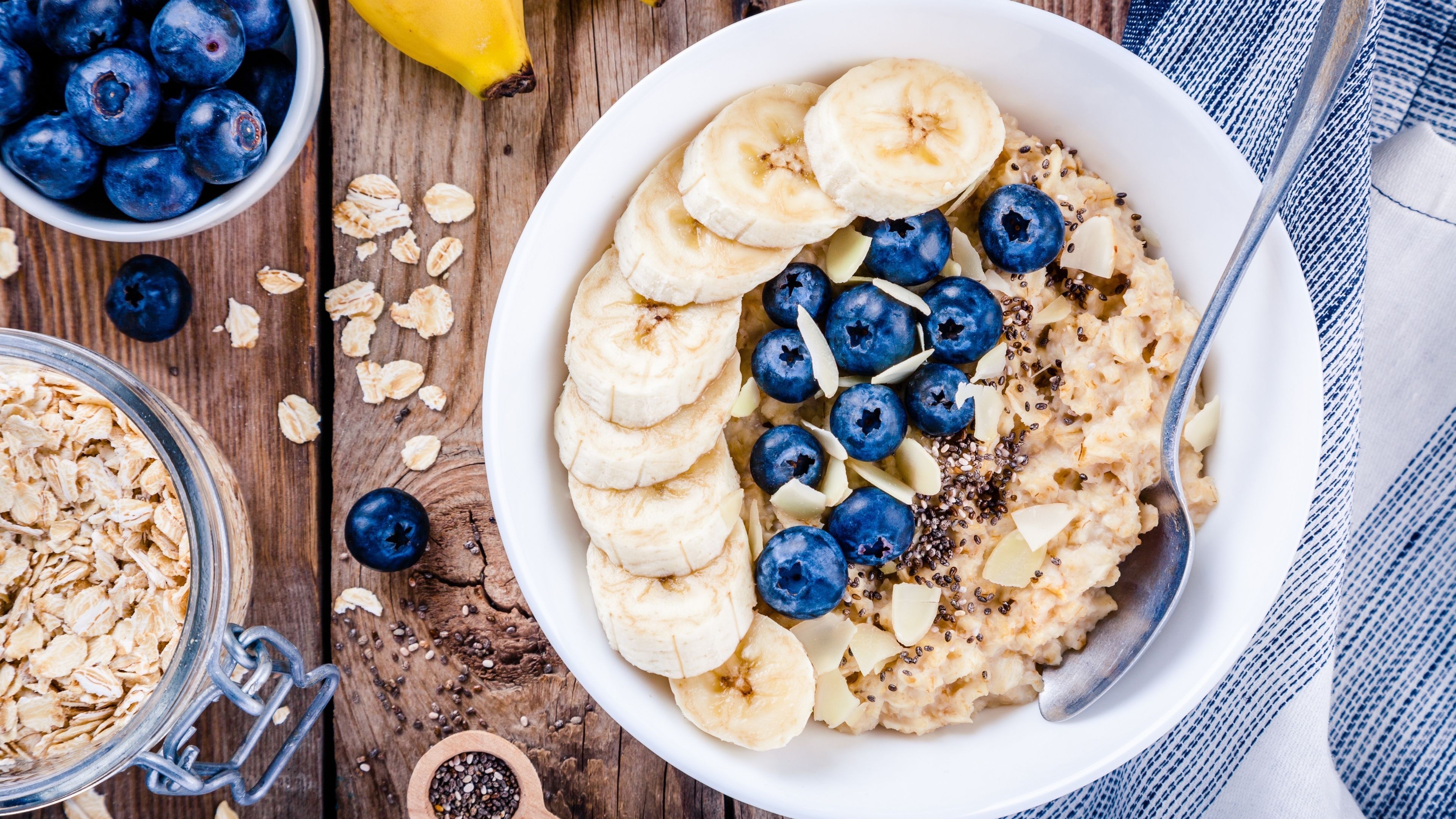 The term oatmeal is often described as a common oat porridge made from ground, steel-cut, or rolled oats. Some commercial packages display other ingredients, such as sugar, salt, flavorings, thickeners, vitamins or minerals, while highlighting quick ("instant") cooking and separately packaged individual portions for convenience.
According to the 1997 ruling by the Food and Drug Administration consuming oat bran or whole rolled oats can lower the risk of heart disease when combined with a low-fat diet via the effect of oat beta-glucan to reduce levels of blood cholesterol.
Not all oats are made equal. Anyone who has a gluten intolerance need to be careful with what brand of oats you buy. Oats are naturally gluten-free however the facilities that process oats often process grains such as wheat, barley, or rye and that creates significant grain "dust" which will cross-contaminate the oats with gluten. It's best to buy certified gluten-free oats to avoid any surprise flare ups.
2 tablespoons unsalted butter or coconut oil

2 cups old-fashioned rolled oats

½ cup milk of choice or additional water

Generous pinch of fine salt

Pinch of ground cinnamon (optional)
Melt butter or coconut oil in a saucepan. Technically, you can toast the oats in a dry skillet, but a little butter or coconut oil makes the final result taste even nicer.

Add old-fashioned oats and cook, while stirring, until they smell wonderfully toasty. Old-fashioned oats, otherwise known as rolled oats, are key here. Quick-cooking oats turn to mush, and

steel-cut oats

require much longer on the stove.

Pour in milk and water, plus some cinnamon and salt. Use your milk of choice (non-dairy milks work just as well), or replace it with an equal amount of water for simplicity's sake. The cinnamon is optional but adds complementary flavor. Salt simply enhances all of the other flavors—oatmeal without salt will taste bland, and oatmeal needn't be bland.

Stir and cook for several minutes, then turn off the heat (yes, turn off the heat!), cover, and let the mixture rest for 7 minutes. During that time, it will magically transform into the best oatmeal you've ever had!
Berry and Chia Overnight Oats
In this "set it and forget it" breakfast option, a mashed banana adds natural sweetness. Fresh berries are a great source of antioxidants.
⅓ cup nonfat plain Greek yogurt

1 cup fresh sliced strawberries
Combine milk, yogurt, oats, chia seeds, and banana in a mixing bowl and stir together well.

Divide oat mixture into two jars with lids. Top each with half the blueberries, strawberries, and walnuts.

Refrigerate for at least 4 hours or overnight.

Get your home's value as of today's date.

Search homes for sale in your area.