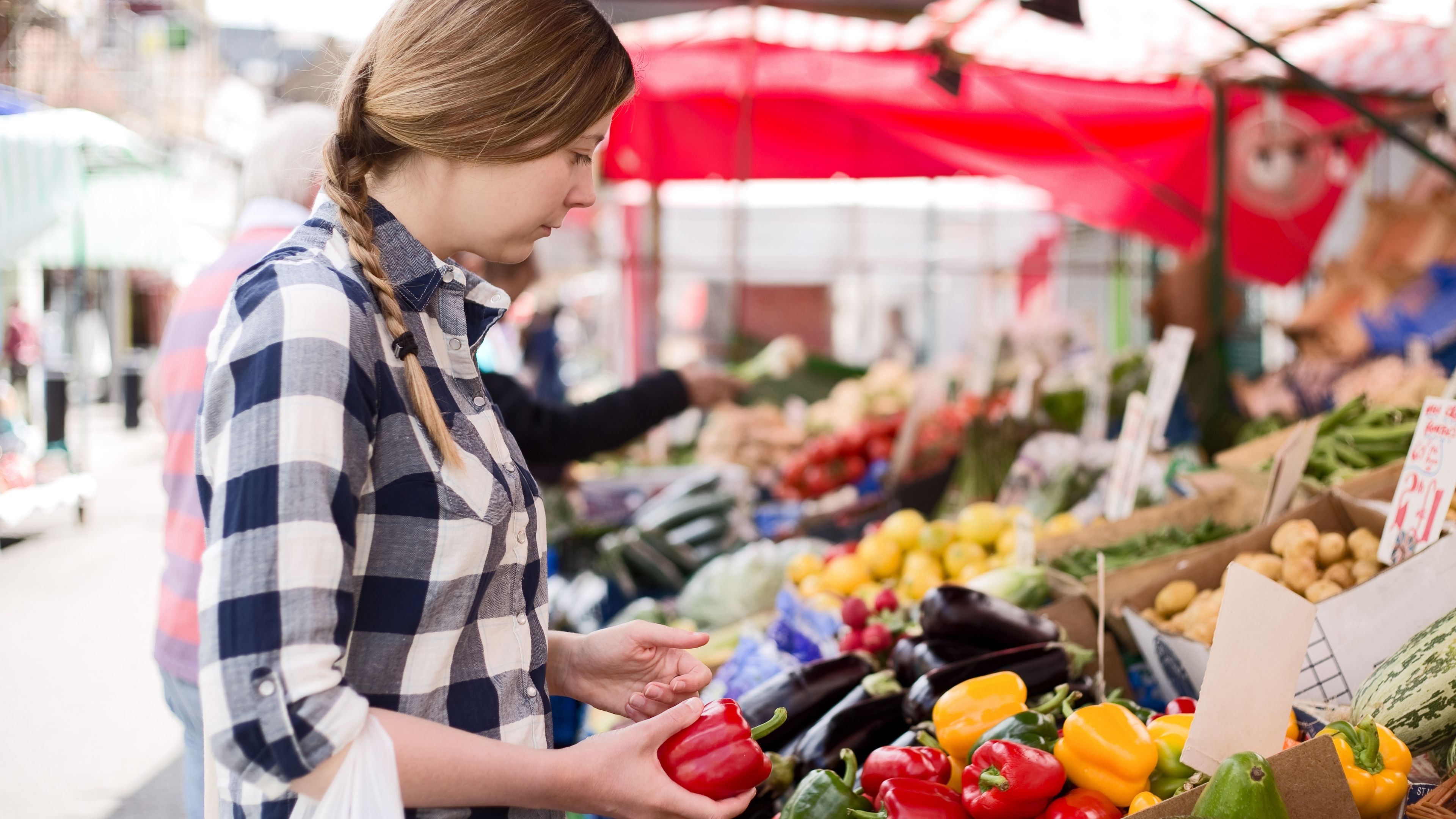 We're all about locally owned farms and markets. That's why we're so excited to see the rise of more and more local farmers' markets in our area! And we're even more thrilled to see the rise of local businesses that are dedicated to providing fruits and veggies at those markets.
It's a win-win situation for everyone—not just because you get to enjoy delicious, fresh food, but also because it supports local business owners who are passionate about their craft.
As a member of the Northcentral PA community, we know how important it is to support our small businesses, local events and charities. In this month's PA Living blog, we want to share local farms and markets. Hope you like it!
(Listed in Alphabetical order by county.)
Lock Haven Summer Farmer's Market, East Main Street Parking Lot, Lock Haven
Every Thursday from 3-7pm, visit downtown for lots of fresh produce, baked goods, flowers and plants, vendors and more.
Benton Farmers Market – 495 Simpson Street, Benton, PA 17814
Making fresh apple cider on site, Benton Farmers' Market is an awesome spot for the whole family. With fresh produce, jellies, and honey straight from the farm there is something for everyone to love. Aside from all of the amazing fresh products they also have some farm animals that you can pay a visit to.
Briar Creek Farms Inc – 1017 E Seventh Street, Bloomsburg, PA 17815
When available Briar Creek Farms Inc has a selection of fresh produce. They have apples, peppers, celery, green onions, and carrots. They are usually open 6 days a week, but give them a call if you are thinking to stop by to ensure they are open.
Greene Kitchen Farm – 150 Quarry Drive, Bloomsburg, PA 17815
Becoming an all-Organic farm has organic fruits and vegetables as well as pastured poultry and grass-fed beef. This little business is amazing because they even have a program where you can get their produce delivered straight to your house for a few months. It's so awesome that you can just go online order your fruits and vegetables, then have them delivered straight to your door!
Ponduce Farms – 270 White Church Road, Elysburg, PA 17824
Not only is this place a great source for local produce and pastries, but they also make hoagies! Once you are done grubbing down on some of their amazing food you have to check out their barn workshop.
Berried Treasures Farm Market - 35 Riverview Rd, Linden, PA 17744
Visit the beautiful countryside to get your home grown strawberries, sweet corn, peppers and tomatoes. Open fields to pick your own berries or purchase at their stand.
Dincher's Roadside, 9657 Rt 220 Hwy, Hughesville
Awesome selection of seasonal flowers, plants, vegetables, and fruits.
Marshalek's Fruit Farm – 1875 Quaker State Road, Montoursville PA 17754
You will not be disappointed with a visit to Marshalek's. Apples, peaches, cherries and more.
Tebbs Farms and Greenhouse – 1620 Four Mile Drive, Williamsport PA 17701
A family-owned farm business where they pride themselves in quality seasonal products. Spring and summer months feature flowers, plants, strawberries, super sweet corn, and other garden vegetables. The fall brings pumpkins and other fall goodies and in December they offer fresh cut Christmas trees and beautiful poinsettias.
The Green Barn Berry Farm – 7299 Armstrong Road, Muncy, PA 17756
Only open during the spring, summer and fall. They have U-pick Strawberries, blueberries, and raspberries, then in the fall they have festive pumpkins for you to pick. Be sure to check out their website and see when they open back up for spring and get some freshly picked produce!
Thomas C Styer Farm and Market - 215 Shady Ln, Muncy, PA
This farm is open seasonally with lots to offer each season. Visit during peak growing times for seasonal vegetables and fruits picked fresh, baked goods and more. In the fall, their store features pumpkins and hayrides.
Williamsport Grower's Market – 249 Little League Blvd, Williamsport, PA 17701
This Grower's Market features over 30 different people who bring their homegrown fruits and vegetables, or even homemade pastries! Rain or shine they are open every single Saturday and the vendors do change so be sure to go and check it out.
Ard's Farm – 4803 Old Turnpike Road, Lewisburg, PA 17837
Ard's is a one-stop-shop for all of those who love Farmer's Markets! They have locally sourced products, their own products like jams, deli products, produce, and yes… even wine. After you are done shopping around you can take a quick stop at the restaurant to enjoy some brunch, lunch, or dinner.
Burkholder's Farm Market – PA54, Washingtonville PA
Burkholder's is not only a Farm, but also a market, bakery, and produce stand all in one. This amazing place grows their own strawberries, corn, tomatoes, and peaches/nectarines during the late spring and summer time. Their bakery has everything from bread, to pies, to different flavored whoopie pies!
Crest Haven Farm Market – 340 Elysburg Road, Danville, PA 17821
At Crest Haven Farm Market, they have a ton of goodies for you and the family! They have fresh fruits & vegetables, dairy, and meat products, then to top it off they also have candy and all different kinds of trail mixes! Then if you are craving some home-made Table Syrup, then Crest Haven is your place! They have a tap in the store where you can fill your own jars with whatever quantity you want!
Mount Carmel Farmers Market – 11190 State Route 61, Mount Carmel, PA 17851
In Mount Carmel, they have a huge Farmers Market that not only has your typical local produce and baked goods. They also have hand-crafted home décor, clothing items and even toys for the little ones. Definitely a great place for the family to grab something to eat, pick up some goods, and have a fun relaxing day. Give them a try if you are down in the area.
Airy Dale Farm Market - 19329 US-522, Beaver Springs
A great little store with deli, seasonal produce, soft serve ice cream, hot food, subs and sandwiches, seasonal flowers and a great variety of locally harvested and crafted goods.
Dressler's Farm Stand - 2784 Middle Creek Rd, Selinsgrove
Open during daylight hours only offering fresh fruits and vegetables, hanging flowers. Bonus – see them at the Selinsgrove Farmer's Market.
Hoover's Produce – 1829 Peffer Valley Road, Port Trevorton
A wholesaler of fresh, locally grown produce and have been for the past 25+ years. They recently added a small retail business on their property where they sell produce that is grown by them and other farmers in the Port Trevorton, PA area.
Sunbury Market House – 436 Market Street, Sunbury
The Sunbury Market House is a great place to shop for local goods and meet up with your neighbors. Enjoy breakfast at the cafe and do your weekly grocery shopping at our indoor farmer's market. Currently open Fridays and Saturdays.
Weaver's Farm Market - 8160 Susquehanna Trail, Port Trevorton
A wonderful spot to get all your fresh produce and bake goods including seasonal plants and flowers. Easy on and off Route 15.
Hail's Family Farm Market – 47 Mattichak Road, Lopez, PA
Featuring two locations: their farm stand at our Lopez farm and another produce stand in Laporte PA. They sell their own farm raised meats – beef, poultry, pork – as well as honey, canned goods, non-GMO eggs, baked goods and more! Hail's grow and sell a variety of produce and everything they grow is certified organic.
Bridge Avenue Berries – 62 Bridge Avenue, Allenwood, PA 17810
If you love blueberries and love that they are organic as well, we recommend that you go to Bridge Avenue Berries. They have some of the best blueberries in the north central Pennsylvania area. They are usually open in July and run into Fall but check out their website for updates on the hours of operations. Also, if you grow your own blueberries at home you must check out their organic fertilizer.
Lewisburg Farmers Market – 600 Fairground Road, Lewisburg, PA 17837
Not only is this place a great source for local goods, but it is also a little piece of history! The Lewisburg Farmers Market used to be an auction back in 1937. Gradually over time the auction turned more into a market where families would go and set up stands to sell their produce or goods. Aside from the history they have an amazing selection of products with over 100 different vendors that come to the market every Wednesday.

Get your home's value as of today's date.

Search homes for sale in your area.